Anti-White 'Hamilton' portrays all American founding fathers as non-White, but not evil King George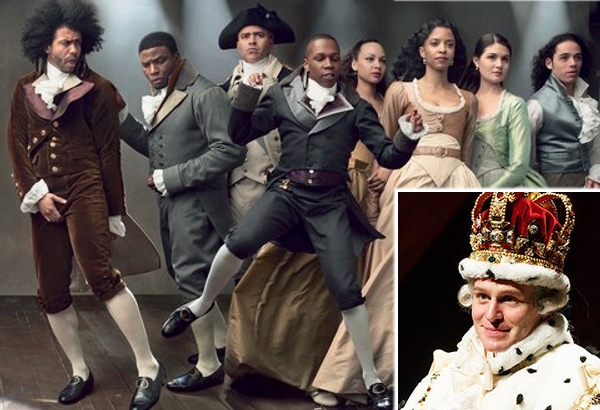 Hamilton', Lin-Manuel Miranda's musical about the life of Alexander Hamilton, one of America's founding fathers, is being performed on Broadway.
You know it's going to have political undertones, when you read that the first act is titled: "Immigrants : We get the job done!"
In addition to Alexander Hamilton, Miranda's musical also casts Aaron Burr, George Washington,James Madison, John Laurens, Marquis Gilbert de Lafayette, Thomas Jefferson, Angelica Schuyler, and Eliza Schuyler all as non-White.
In fact the only White leading actor is King George III, which American audiences identify as the bad guy.
When the musical was first performed in 2013, it even had a Black guy playing King George III as well, but I guess they had to cast the bad guy as a White man or else the musical would be deemed to be some kind of evil 'hate musical', and would never make it on Broadway.
Anti-Whites have re-written a lot of history, all to make White people look like some kind of super-evil Nazi race which caused all of the world's problems.
If you have a kid in school and asked them what they learned in school today, they'd probably tell you exactly that.
So why are they re-writing history to make us hate or feel guilty about being White?
The simple answer is: because they want to get rid of us. The anti-Whites opened up America's, Australia's, Canada's, and Europe's borders to mass non-White immigration with their militant lobbying.
Now they are trying to make sure that every White area has a sufficient amount of "diversity". In other words, trying to make sure that every White area begins the first steps to becoming minority White.
This agenda of theirs is not "diversity" as they claim; it is White genocide, because they are trying to get rid of us. They are trying to turn us into the minority. That is a crystal clear example of genocide, according to all legal definitions of genocide.
This musical is yet more proof that "diversity" is White genocide!
https://whitegenocideblog.whiterabbitradio.net/wp-content/uploads/2015/12/Header-12.15-300x91.png
0
0
H.Avenger
https://whitegenocideblog.whiterabbitradio.net/wp-content/uploads/2015/12/Header-12.15-300x91.png
H.Avenger
2016-02-08 19:32:45
2016-02-08 19:32:45
Anti-White 'Hamilton' portrays all American founding fathers as non-White, but not evil King George