Sweden's public broadcaster bans the word "immigrant" as part of censoring campaign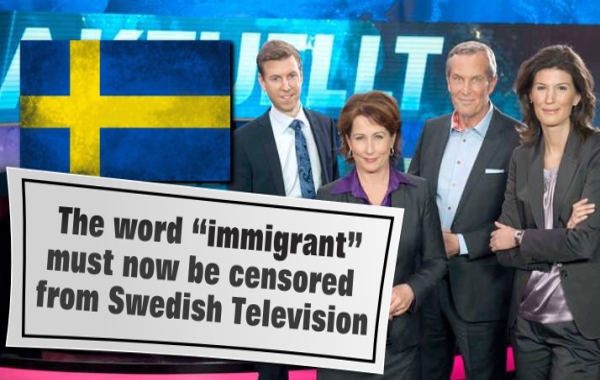 Sweden's state-funded broadcaster SVT (Swedish Television) has ordered its employees and journalists not to use the word "immigrant", according to its new "language manual".
The phrase "immigrant population" must now be replaced with the phrase "socially/economically deprived area."
The language manual also warns staff against using the words "black", "dark skinned", or "African origin" in a negative context.
It says they should refer to them as "Swedish" if they have Swedish citizenship.
However, it tells SVT staff that using the term "white" or "fair skinned" in the same negative context is absolutely fine.
One part of the language manual says that anyone who is accused of so-called "racism" or "discrimination" is not to be given any time on air to defend themselves.
Anne Lagercrantz, director of news and sports at SVT, says the reason for this is because "Language is power. Language is also politics."
She is absolutely right, and that's why when they say "diversity", we say it's "White Genocide". It takes the power away from the anti-Whites who would have us believe that the whole world is turning "diverse".
But if you take a look around, you can't help but notice that the only countries, cities, and towns which must have "diversity" forced on them are full of White people.
Japan, Saudi Arabia, Dubai, South Korea, China – just a few rich countries that are not forced to "resettle refugees", "promote diversity" or "mix the races". That's because they're not full of White people.
I don't know why the upper echelons of politics want to eliminate us from our own countries, but I do know their White genocide agenda has been going on for several decades now, and is picking up speed.
https://whitegenocideblog.whiterabbitradio.net/wp-content/uploads/2015/12/Header-12.15-300x91.png
0
0
H.Avenger
https://whitegenocideblog.whiterabbitradio.net/wp-content/uploads/2015/12/Header-12.15-300x91.png
H.Avenger
2015-12-19 14:22:06
2015-12-19 14:22:06
Sweden's public broadcaster bans the word "immigrant" as part of censoring campaign