Minister: Non-Westerners were brought in to "diversify" Germany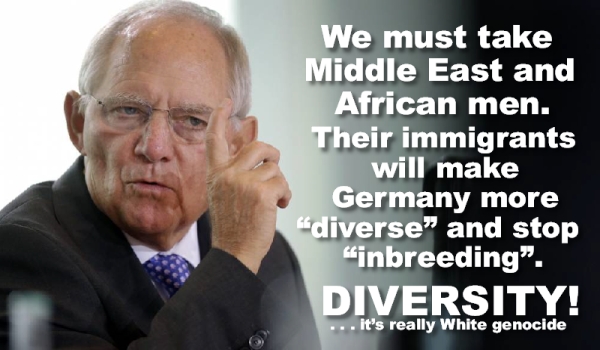 According to a German government minister, over a million illegal immigrants were brought into the country in 2015, to make Germany more "diverse."
"The closure [of borders] is what would make us broken, which could degenerate us towards inbreeding" said Wolfgang Schäuble, Germany's federal finance minister.
"For us, Muslims in Germany are an enrichment of our openness and our diversity,"
He said in the past Europe stayed out of Africa and the Middle East's affairs, but "that's over now" in what he said is now the "globalized world."
"We have, after 1990, begun to seriously deal with the fact that there is something else outside of the Western world,"
If you read between the lines (and the lies), he is saying that immigration from non-Western countries is a good thing and should be increased.
These anti-White politicians are a joke. One minute they say "race doesn't matter" then the next one they say that's why we need to "diversify" the West.
If race didn't matter to them, why exactly is it a sin to be "too White"?
I'm sure everyone can point out more double standards like these, but why exactly did this agenda come about?
It's because a large portion of the establishment believes that White people are "big mean racists", and the only way to solve this problem is by making us a minority with non-White immigration.
Some people say it's a conspiracy that's been planned out decades in advance. Others say that it's actually a religion, where Whites are seen as the sinners.
One thing's for sure though – it's White genocide. It results in majority White countries being made minority White, meanwhile non-White countries do not suffer a similar fate.
https://whitegenocideblog.whiterabbitradio.net/wp-content/uploads/2015/12/Header-12.15-300x91.png
0
0
H.Avenger
https://whitegenocideblog.whiterabbitradio.net/wp-content/uploads/2015/12/Header-12.15-300x91.png
H.Avenger
2016-06-10 18:56:51
2016-06-10 18:56:51
Minister: Non-Westerners were brought in to "diversify" Germany